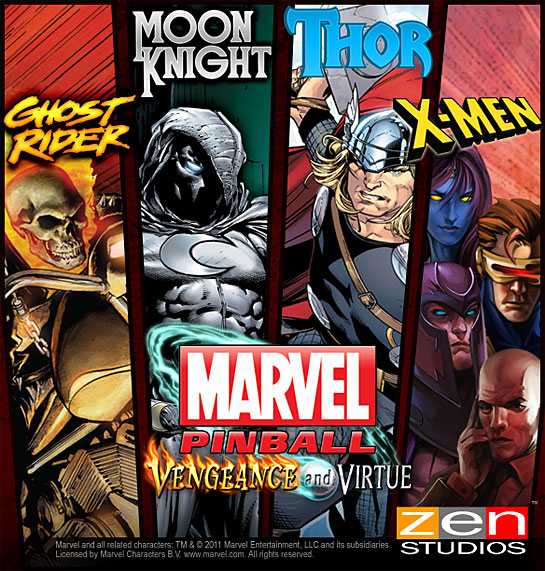 In the age of downloadable "arcade" titles, many gems of games have come about.  Not only are these games simple and fun, but many of them do not require 20-40 hours of your dedication to finish them.  Some, in fact, can be enjoyed in a matter of 30 minutes at a time, but make you want to come back to them time and time again.  Pinball FX 2 is one of those games, if not the pinnacle example of one of those games.  The folks at Zen Studios have released many tables (some licensed, some original) for their fantastic title available on Xbox Live, as well as PlayStation Network.  This week, they were at it again, releasing yet another set of pinball tables based on Marvel characters (X-Men, Moon Knight, Ghost Rider and Thor) in a pack called: Marvel Pinball Vengeance and Virtue.
Each of the 4 tables available in this pack offers their own unique layout and play challenges.  Like all of the previous Marvel pinball tables, these tables feature moving statuettes of both the protagonist, as well as many of the villains said character faces off against in their respective series'. The tables also all offer complex objectives to complete, similar to those of most real life licensed pinball machines.   Obviously, offering movements and instances not possible on a real pinball machine.
What surprised me was the vast difference in my level of enjoyments with the various tables.  Moon Knight, a character I have long bashed as nothing more than a Bat Man rip off mixed with Lawrence of Arabia, has the best of the four tables.  The table was well balanced, designed very well, didn't contain wasted space, and was challenging yet didn't feel overly complex.  In addition, the commentary between Moon Knight and his companion friend are tongue-in-cheek and are good for a few giggles here and there.  My wife, who is not a gamer by any means, even enjoyed this table.
Ghost Rider also offers an interesting table.  His table is definitely more challenging, and feels slightly repetitive in that it felt like I was hitting the same two ramps over and over.  However, once you get the hang of this table, his "boss battles" are very original for an experience in Pinball FX2.  For instance, when fighting The Orb, the player must come up with unique ways to hit The Orb with the pinball.  Once you've used a ramp, The Orb will stop you from using it once again. 
The X-Men and Thor tables, however, felt a bit weak.  Both tables felt like there was a good amount of wasted space, and lacked any creativity on their tables. The space didn't become so much an issue, until I grew frustrated with the pinball constantly losing momentum when shooting for a ramp.  While they shared the statuettes that other Marvel Pinball tables have, the figures didn't seem to add anything unique to the overall playing experience.  Often, the tables become more annoying than entertaining.  The voice acting for the X-Men table was also abysmal, reminding me of the amazing lines from the X-Men arcade game. 
All in all, this new pack is definitely worth picking up for the $10.00 add on to an already awesome and underappreciated Arcade title.  Any skeptics would be advised to try the demos for all of the tables before purchasing.  Enthusiasts are definitely encouraged to give it a go.